Grapevine Catering

Let The Important Events In Your Life Become Easier By Choosing The Grapevine's Experienced Catering Team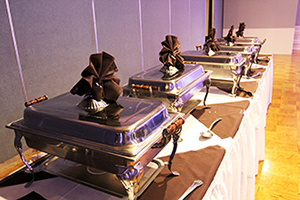 Founded in 1983, The Grapevine Banquets and Catering enjoys a unique place among Amherst special event planners. We have been servicing Amherst and the surrounding suburbs for over 32 years.

In the Summer of 2014, Tom & Liza acquired a prime location in Depew to expand their presence in the Banquet & Conference industry known as The Grapevine Banquets. As Tom & Liza stated, "We are thrilled to have the opportunity to extend our presence in Western New York. Traditions are a necessary part of who we are as a family owned business. The Grapevine Banquets has served the Western New York community for over 32 years. Our vision is to create another staple in the community where family and friends can join us in celebration and our team can be part of many wonderful memories to come.

The Grapevine is the exclusive caterer at The Ellicott Creek Banquet Facility. Since the completion of our newly renovated and remodeled banquet hall in 2000, we can now accommodate from 50 to 225 people in comfort and elegance. Whether it is a wedding, birthday, shower, anniversary, business luncheon, graduation, seminar, or just a simple gathering, our banquet facility offers the very best at affordable prices.

With plenty of off street parking, our facility can provide your guests with safe, easy accessibility. We are located on South Ellicott Creek Road in Amherst and our banquet hall is everything that you will need to have the perfect gathering.

The Grapevine has many locations to serve your event, whether an intimate gathering, large gathering or a conference. I personally invite you to call us at 716-553-8694 to schedule a personal tour or gather information on one of our banquet locations!
Dedicated to Serving You,
Liza Pane
Co-Owner
» Click for Catering Locations «
"It is my pleasure to make sure your event is everything you want it to be"